Watch the 2014 Australian Closed Championships Live from 12 noon 6 September 2014
The Queensland Badminton Association is running a Level 1 coaching course, on Saturday 16th August at Sunnybank Hills State School, Symons Road.The course will run from 8.30 - 4.00pm and is limited to 16 participants.
The cost to attend the level 1 course is $145 (including GST). This includes a coaching manual and your four year level 1 coaching accreditation (dependent on all requirements of the course being fulfilled). This cost does not include any coaching insurance eg professional indemnity. There will be a 30 minute break for lunch and lunch will be provided.
Attendance at this course provides an opportunity to be accredited as a level 1 badminton coach. The Level 1 Course is aimed at teachers / players who wish to, or currently are, working with beginner players. If your school or club is paying for the course please let me know and QBA will issue a tax invoice to them. If you are paying yourself please transfer to the following account in the next two weeks to confirm your spot (leaving your name as a reference)
Bank: Commonwealth Bank
Account Name: Queensland Badminton Association
BSB No: 064001
Account No: 00917468
To be awarded BA Level 1 Coaching Accreditation, candidates must successfully complete the following assessments tasks. In-course Assessment Demonstrate the basic grips and hitting action used in badminton and scoring; and Implement a range of 'Game Sense' fun games and lesson plans that facilitate a players understanding of singles, doubles game play. Post-Course Assessment also applies if you are not a PE teacher.
If you have any queries please do not hesitate to send us a note to secretary@qba.net.au
Congratulation to the following members who were regrade following their performances at the 2014 GOSEN City of Brisbane Badminton Championships. These regrades apply to all future tournaments as per the QBA Calendar:
Donald Han to C Grade
Isabel Aniceto to B Grade
Bevin Choy to B Grade
Yap Shan Jiun to B Grade
Jamie Ma to B Grade
Marvis Lee Ming to B Grade
Wilson Wong to B Grade
Lynn Duong to A Grade
The 2014 Badminton competition season is about to get underway with the 2014 Queensland Doubles Championships.
The event will be conducted at Calamvale Community College on the 2nd March 2014. This event is a national ranking event, and a good turnout is expected from our local players.
More information on the event is available on the QBA Website, www.qba.net.au
Looking to play Badminton? We have clubs all over Brisbane where you can get started.
Checkout the Where To Play tab above to find the location nearest to you.
The 2013 Queensland Badminton Championships will be held on Saturday 20 July and Sunday 21 July 2013. The Championships are being held at Caolundra on the Sunshine Coast in two venues,
Meridian State College, 214 Parklands Blvd, Meridian Plains (Sat and Sunday)
Pacific Lutheran College, Woodlands Blvd, Meridian Plains (Saturday)
Entries close Saturday 13 July 2013
Prices to play
Open Grade Events: $17 per player per event (GST Inclusive)
Other Events: $15 per player per event (GST Inclusive)
Enties are now available for the 2013 Brisbane Junior Badminton Championships. The championships will be held at Sunnybank Hills State School, Symons Rd, Sunnybank Hills on Saturday 13 April 2013.
Events will be held for U11, U13, U15, U17, U19 and U21 age groups
To enter click on the link below or download the entry form
The Chandler Badminton Club have just commenced a new Junior Badminton session in the bayside area. Playing details are below
WHERE : NOEL HUMPHRIES SPORTS HALL,
BRISBANE BAYSIDE STATE COLLEGE
Network Drive, TINGALPA QLD 4173
WHEN : Friday evenings 7 – 9 pm
COST : $6.00 Members $8.00 Non Members
(up to 2 visits)
Membership: : $50.00 – includes QBA registration.
The Brisbane Badminton Association is happy to launch a new badminton location for 2012
Where: Springwood Road State School
When:
2 January 2013
9 January 2013
16 January 2013
23 January 2013
30 January 2013
(More sessions to be scheduled)
From: 6.30- 9.30pm
Cost: $7 per session
BBA/QBA membership applies from the second visit. This membership includes player insurance and goes for 12 months from payment. Rackets available for use for the first few weeks and coach on hand to introduce new players to the game.
For further information contact Johnny on 0411550902
Whilst the Christmas period is now upon us, there are pleanty of opportunities to continue playing throughout the holiday period.
- Monday 17/12 6.30 – 9.30pm
- Wednesday 19/12 6.30 – 9.30pm (this session is for full BBA/QBA members only please do not bring in visitors)
- Thursday 20/12 7.00- 9.30pm
We will then have a small break until Wednesday 2/01/13.
Please note that Wednesday is full BBA/QBA members only (please do not bring in visitors). The Monday, Thursday and Sunday sessions BBA/QBA membership applies from the second visit (in total between sessions).
Sunnybank Hills State School, Symons Road
(may go later dependent on numbers)
Wednesday Nights (7.00 – 9.30 pm)
(Members only on Wednesdays)
Cost $6 per player (members only)
19 December 2013 6.30pm- 9.30pm special time
2 January 2013 6.30pm- 9.30pm special time
9 January 2013 6.30pm- 9.30pm special time
16 January 2013 6.30pm – 9.30pm special time
Thursday Nights (7.00 – 9.30 pm)
Badminton is coming to Mt Gravatt. Commencing Tuesday 10 July we have expanded to a new venue. A social badminton sessions will be held at Mt Gravatt High School on a Tusaday night from 7pm to 9pm
New players are welcome to come along. Sessions cost $6 per night, and membership fee is $47.50 payable after 3 visits.
The sessions is run and managed by the Sunnybank Badminton Club, as an additional session of their club. They also run Thursday nights at Algester State School. For further details email sunnybankbc@gmail.com
New Badminton session just commenced at Nundah State School. Juniors from 5-7pm. Adults 7-9pm. Cost is $6 per session.
Please find attached the Qld Club Doubles Team Event being run by the Qld Badminton Association on the 8th October 2011 and 15 October 2011.
All events will be held on the date advertised. B/C Grade entries close 7th October 2011
Please support this event and organise a club team.
Only Affiliated Clubs are able to Enter Teams
The Brisbane Badminton Association is offering a unique opportunity for beginners through to B grade level players to recieve coaching from one of Queenslands expert coaches.
The location is Sunnybank Hills State School, Symons Rd, Sunnybank Hills. Three sessions only on the following Wednesday nights from 7pm to 9.30pm
5th October
12 October
19 October
The price is $7, and will be required to join the BBA/QBA, a 12 month membership.
From the following week, 26 October, this time will then convert into a new badminton club.
If you would like further information of questions please email info@brisbanebadminton.org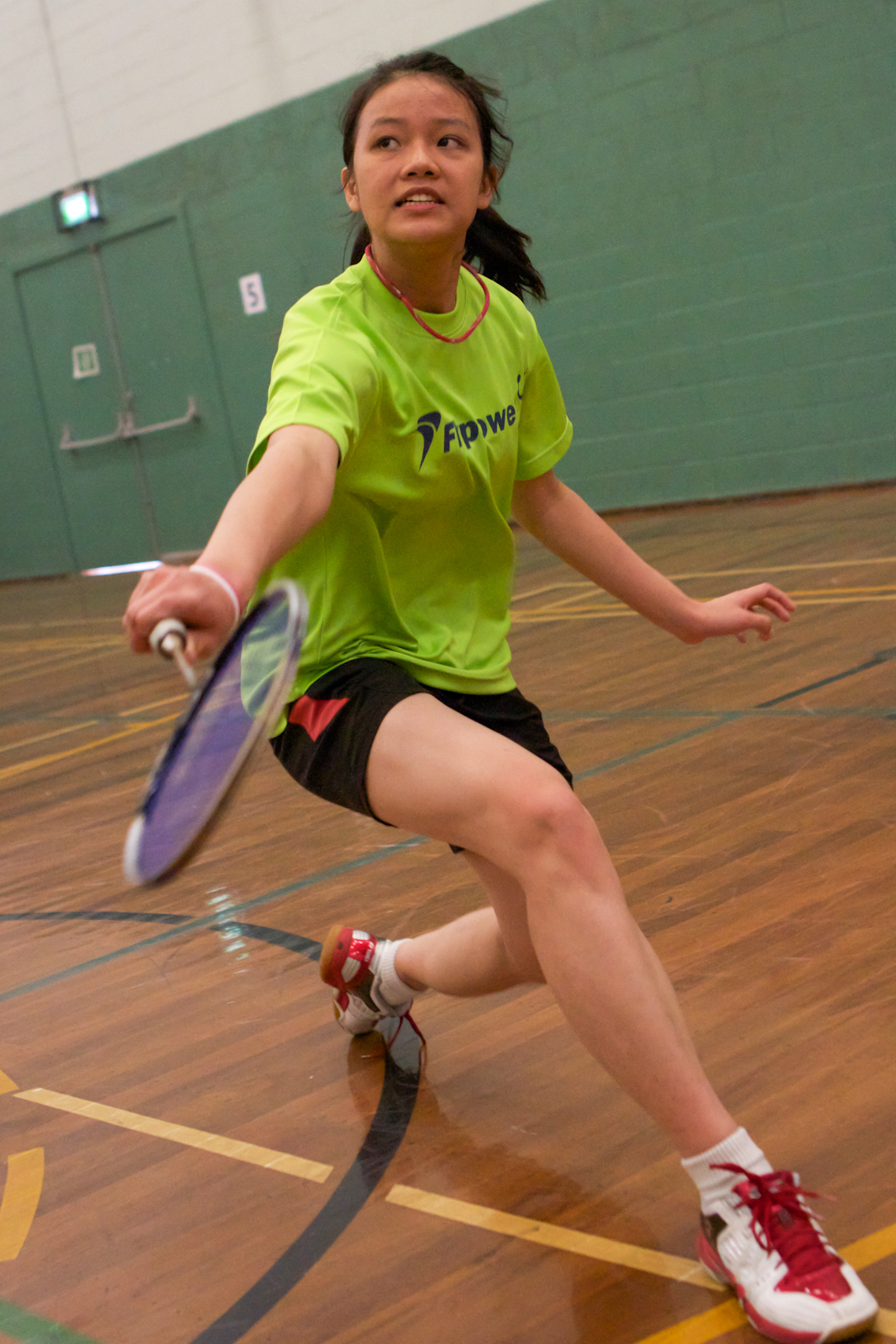 Brisbane and Queensland Badminton star Grace Ngiam is featured this week in the Southern Star Newspaper. Grace and fellow Brisbane player Juliam Lam will travel to Perth at the end of the month to compete in the U15 National Championships.
Brisbane Badminton's junior athletes have had outstanding performances at the U19 National Badminton Championships held in Sydney.
Wendy Chen successfully defended her title to win the Australian U19 Ladies Singles Championship. Wendy was undefeated in singles throughout the teama and individual event. Wendy dominated here Victorian opponent from the beginning of the match, and was never really troubled.
In the mixed doubles wendy partnered fellow Brisbane player David Ngiam, but unfortuantely we not strong enough for their WA counterparts, going down in an entertain and close two sets.
In the mens singles, Lyman Ngiam really took the challenge to the second seed from WA, Eddie Hung. Both sets were extremely close and very entertaining with both players leading at different times troughout both sets. Unfortunately Lyman was not able to close out the sets and Eddie came out the winner. The match toped off a great week for Lyman, who beat the number 1 and 3 seeds on his way to the final.
The Queensland Badminton Association has just announced a number of regrades. Congratulations to all those on their improvement. To check them out go to www.qba.net.au
Badminton Australia has just announced the U19 Australian Team for the Pan Pacific Championships. Congratulations to the two Brisbane players, Wendy Chen and David Ngiam for getting selected in the No 1 team. The event will be held in Ballarat between May 10 -12 and will play teams from NZ and Singapore.
For more details and the full teams can be found on the Badminton Australia website.
Online entries are now available for the City of Brisbane Badminton Championships to be held on 21-22 May 2011. The event will be held at Calamvale Community College, Hamish St, Calamvale.
If you are entering 3 or more events, and pay your entry fees by the closing date, you will go in the draw for $60 worth of Badminton equipment (eg Yonex) from the Brisbane Badminton Association.
You can enter online by clicking here. Entries close Wednesday 11 May 2011.
Want to see pictures from the Yonex Australian International currently underway in melbourne. Click here for pictures
The U17 Team was recently selected for the upcoming Australian u17 National Championships. Six Brisbane based players were selected. The team travels to Wellington at Easter for the Championships. The team is as follows:
Simon Leung - Brisbane
Jeffrey Lu - Brisbane
Thibaut Zeestraten - Sunshine Coast
Grace Ngaim - Brisbane
Janet Yuen - Brisbane
Clair Blagen - Sunshine Coast
Heather Nicolle - Brisbane
Abby Powell - Brisbane
You will be able to follow the results of the carnival by clicking on the following links:
The 2011 Li-Ning Australian Junior International to be held in Ballarat from May 13th-15th, 2011.
This tournament will be the first event in Australia to be included in Junior World Rankings. So far we have received enquiries from New Zealand, Singapore, Thailand, Vietnam and the Philippines.
The schedule for the 2010 Brisbane Badminton Team Event has just been released. The details are as follows:
Click here to see the schedule of play
The event will be held on Sunday 28th March 2010 at Calamvale Community College, Hamish St, Calamvale.
Spectators are welcome
Interesting in playing Badminton. All of clubs welcome new players. Click on the link Where to play above to find details on your nearest club.
Interested in re-living the excitement of the Brisbane Badminton Championships. Watch matches a selection of matches here.
The videos can be viewed by making a small donation of $2.50 via paypal. For this price you will receive unlimted viewing for up to 1 hour. Donations received by the Queensland Badminton Association will be used as fundraising for State Teams.